The New England Section 99s
Invite you to Join Us!
The 99s takes its inspiration from women in aviation history and works to promote the advancement of women in aviation today  . . ."
The New England Section of The 99s is one of 26 sections of 99s in the world. Our membership is divided into chapters that are part of geographical "Sections" that cover several states in the U.S., provinces in Canada and countries.
There are three chapters within the New England Section:
Katahdin Wings (Maine, New Hampshire, Vermont)
Eastern New England (Eastern MA, Rhode Island, and Southern New Hampshire)
Connecticut (Connecticut and Western MA)
Attend a meeting in your area and meet other women pilots
Participate in events, scholarship & aerospace education activities
Many faces, all in love with flying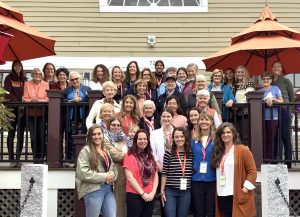 We are a diverse group of aviators encompassing many professions – from airline pilots and CFIs to doctors, artists, photographers,
Meet our current Governor Mary Build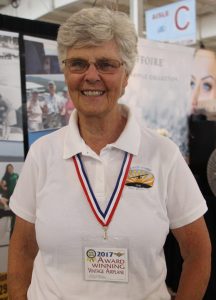 I started out my career in aviation as a scenic flight operator along with a Part 135 Charter Service, Naples Seaplane Service.  After four years in that position, I started my own seaplane flight school, on Brandy Pond in Naples, Maine.  I went on to become a CFII, FAASTeam Representative and a Designated Pilot Examiner.  I enjoy developing safety seminars drawn from my own experience as a Single Engine Land and Sea pilot with over 6,500 hours.  Some of those hours were in AMEL King Air for two years.
I have flown to Alaska in my own plane six times.  I have crossed the country many times while going to and from air races and Alaska.  The latest adventure was organizing a group of twelve people for a ten-day African Flying Safari in June of 2019.   We all flew Cessna 182s.  There were seven women pilots, three male pilots and two women passengers.
I am a member of the Katahdin Wings Chapter.
What We Do
Small but Mighty!
The New England Section (comprised of three chapters) come together for meetings in the Spring and Fall of each year. The Section meeting is hosted by one of the chapters and is held in their geographic area of New England.
Other annual events hosted by the chapters of the New England Section include a fundraising flying Poker Run, Scholarship Luncheon and numerous other such as Girl Scout events, Fly-Ins, air shows, seminars, talks, tours, mentoring, support, support, support……
Meet CT Chapter Member Terry Vandendolder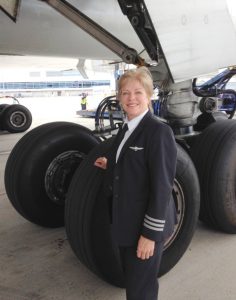 Terry VandenDolder took her first flying lessons while in her junior year at the University of Connecticut. Bit by the flying bug after only 2 flights, Terry applied for and was accepted to the Air Force pilot training program after graduating from the University of Connecticut. Terry served 10 years on active duty and 18 years in the Air Force Reserve. She was a C-141B instructor pilot flying global cargo / transport missions around the world from Pakistan to Antarctica, Europe to Africa, while based at Travis AFB, CA. Terry was an evaluator pilot in the C-21A (Lear 35) at Andrews AFB, MD, transporting White House, Congressional and DoD dignitaries when she was not instructing new pilots in the aircraft. She commanded C-141B cargo/transport missions to the Middle East during Operation Desert Storm in 1990-91. She also served as a legislative liaison for the Secretary of the Air Force at the Pentagon. After serving 28 years in the active duty Air Force and A.F. Reserve, Terry retired from her military career in 2009 as a Lieutenant Colonel.
In 1990 she was hired by American Airlines. Since 1990, Terry has flown domestic and international flights on the MD-80, B-737, 757, 767, based out of Washington, D.C. Currently she is based at JFK airport in NY where she flies international flights to Europe and South America on the B-777.