99s INTERNATIONAL CONFERENCE 2023
October 27-November 2
Amman, Jordan
Registration Closed
INTERNATIONAL BOARD OF DIRECTORS
SPRING MEETING
Oklahoma City, Oklahoma
Friday & Saturday, March 1 & 2, 2024
It will be a hybrid meeting in-person and Zoom for those who are unable to travel.
All 99s members are welcome.
INTERNATIONAL BOARD OF DIRECTORS
FALL MEETING
Oklahoma City, Oklahoma
Friday & Saturday, Nov. 1 & 2, 2024
Financial Meeting will take place Thursday, August 24
It will be a hybrid meeting in-person and Zoom for those who are unable to travel.
All 99s members are welcome.
99s INTERNATIONAL CONFERENCE 2024
July 4-7, 2024
Vancouver, British Columbia
West Canada Section Hosting
Watch for more details
99s INTERNATIONAL CONFERENCE 2025
July 8-13, 2025
Burlington, Vermont
New England Section Hosting
Watch for more details

Members of the New England Section 99s gather many times throughout the year to sponsor or attend various aviation education, fundraising and out-reach events. These events include Poker Runs, painting Compass Roses, Women Take Flight at the New England Air Museum, Section Meetings, Treasure Hunts, cockpit and control tower tours, as well as fly-ins and fly-outs. Scroll down for more recent events by New England Section & Chapter members.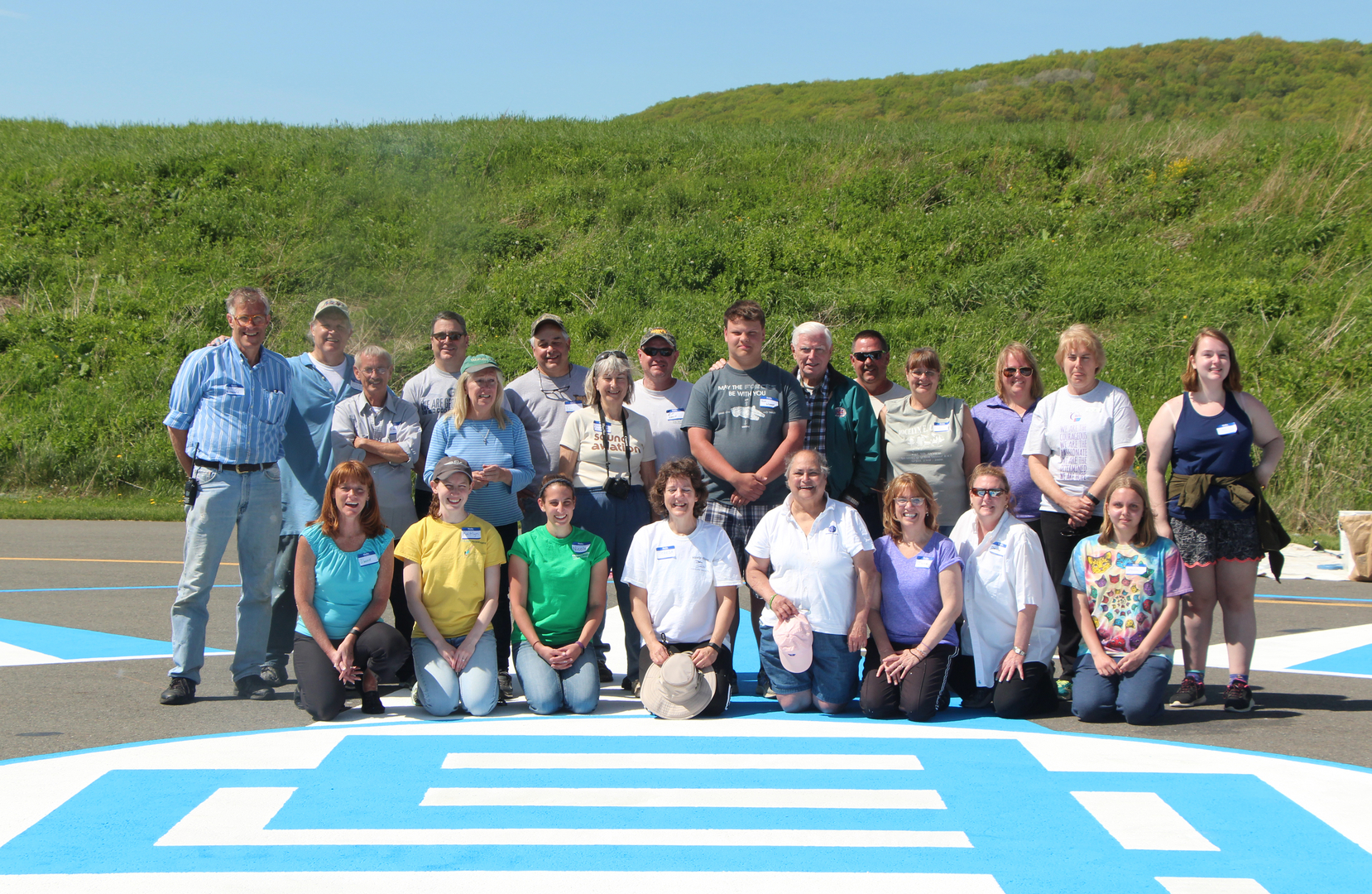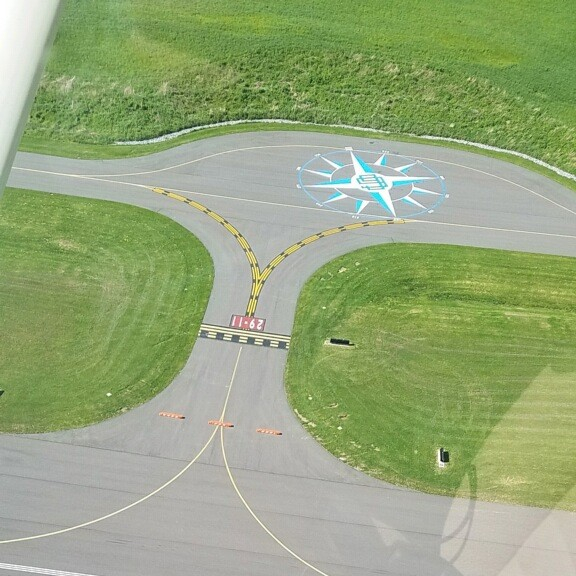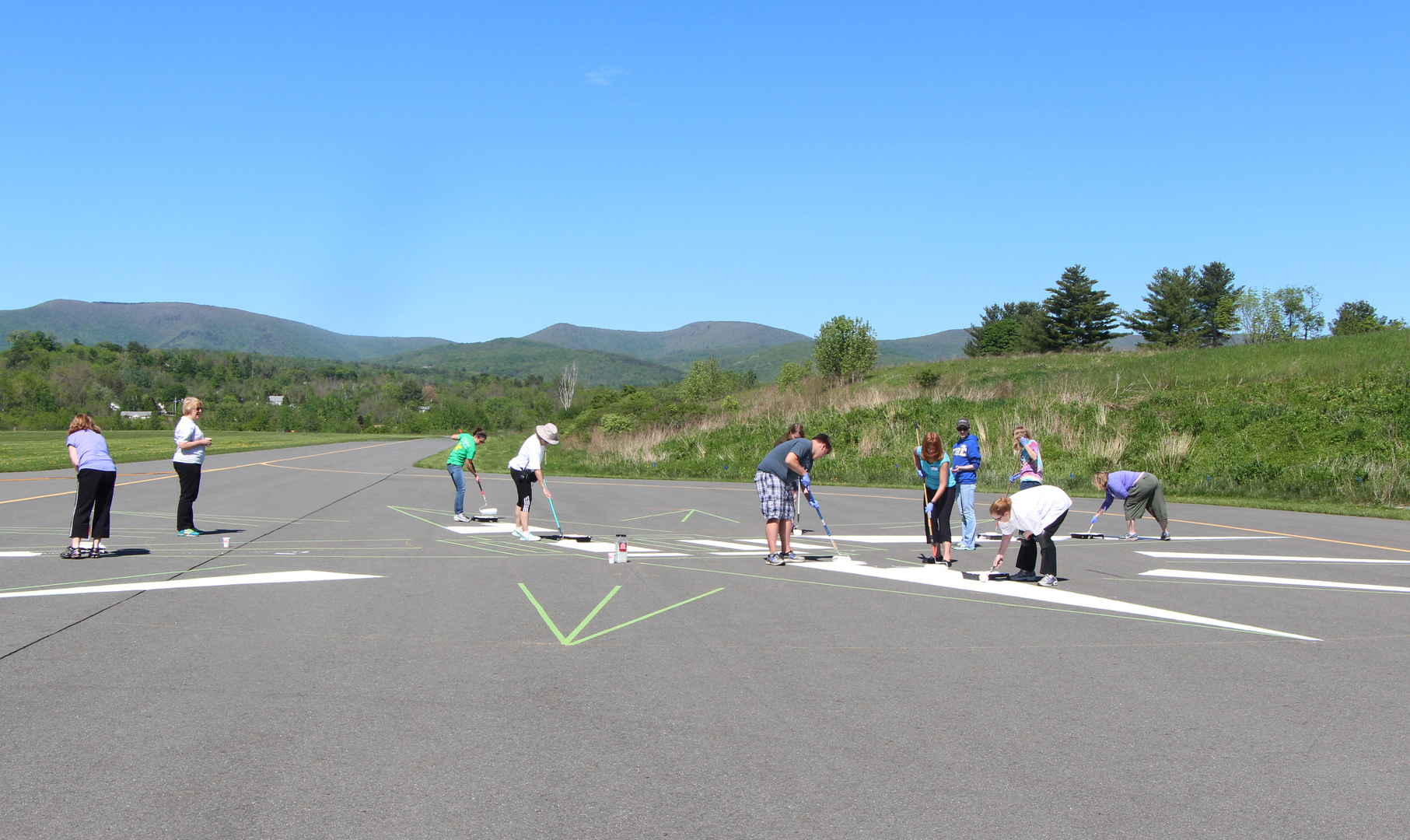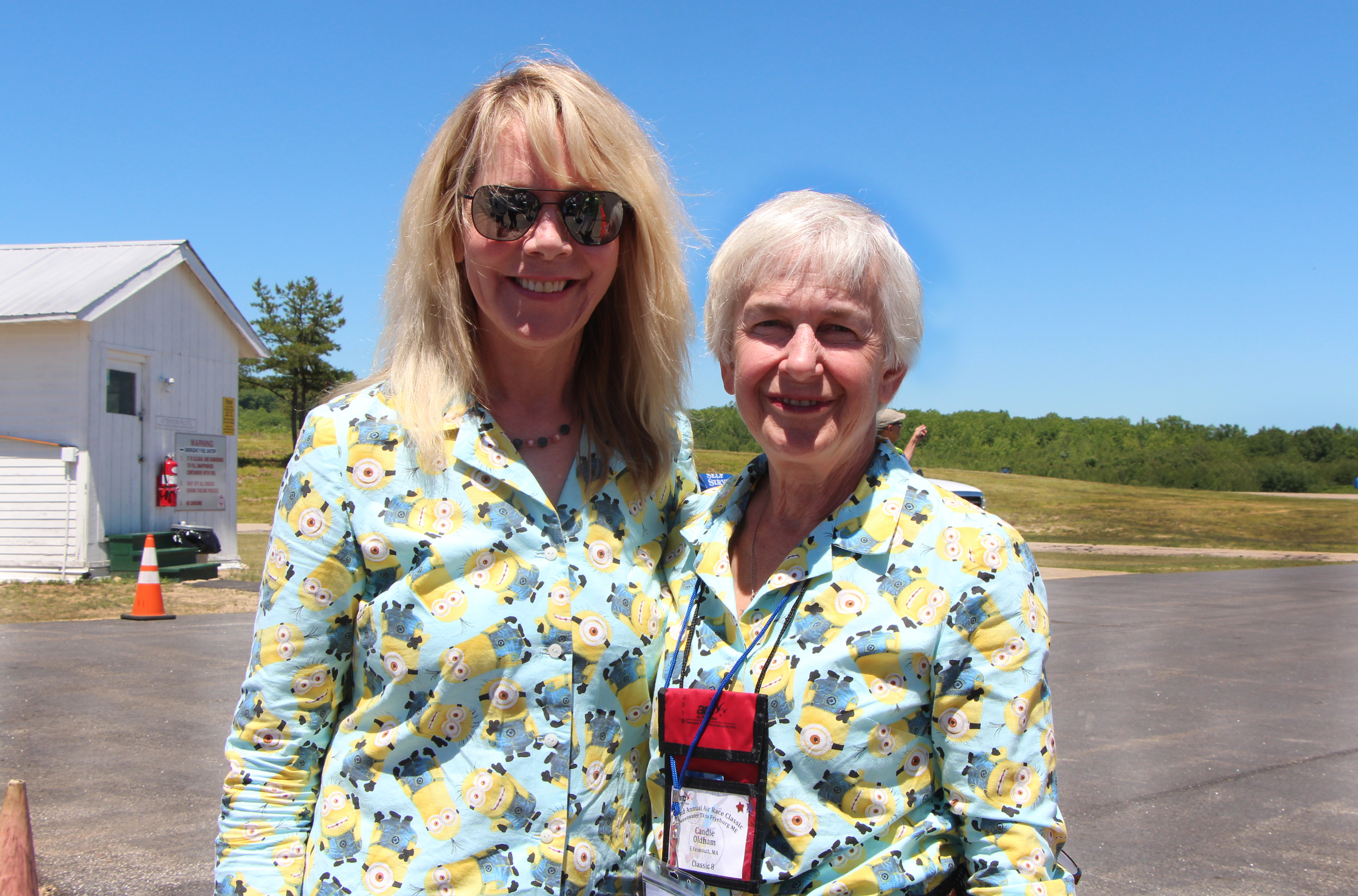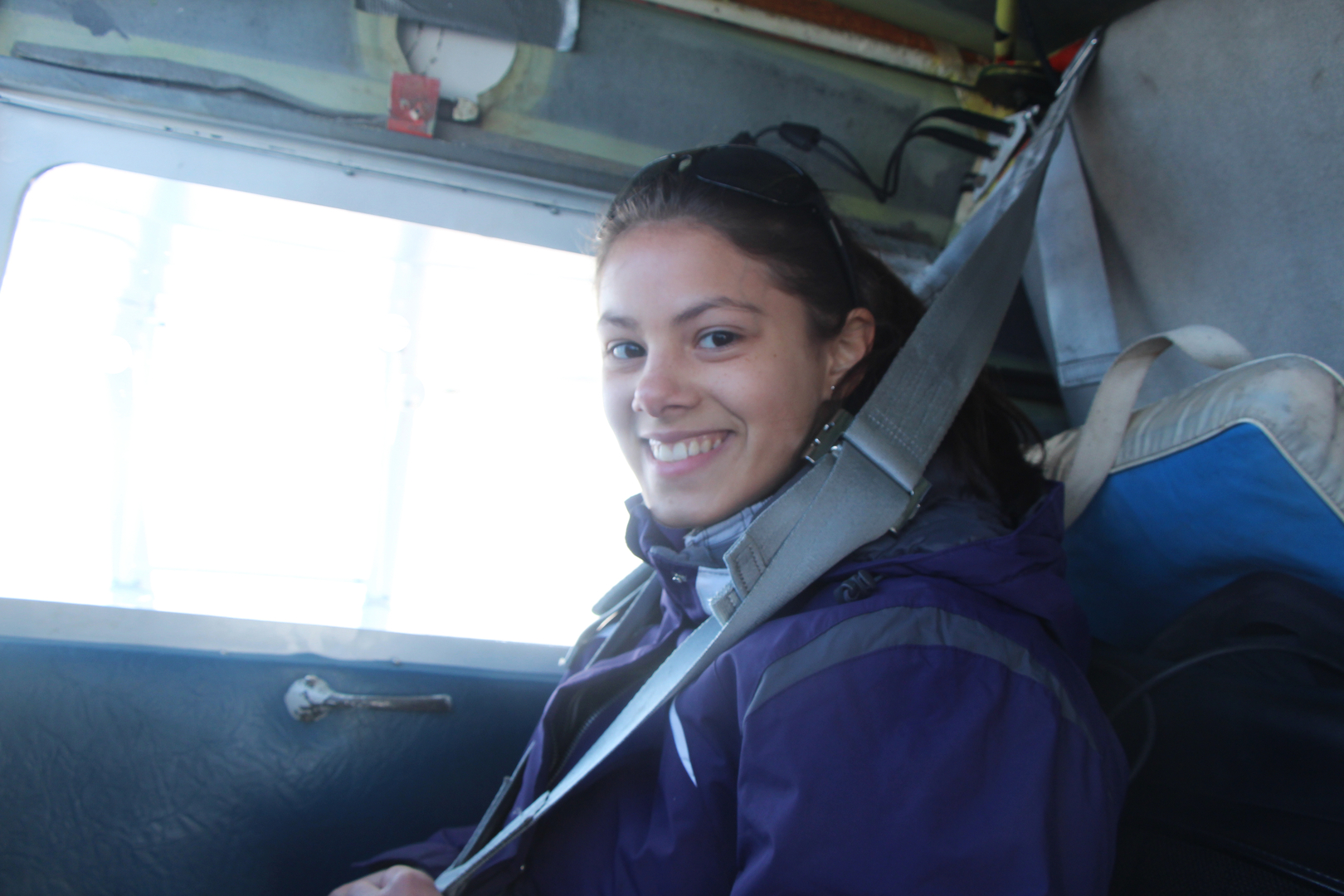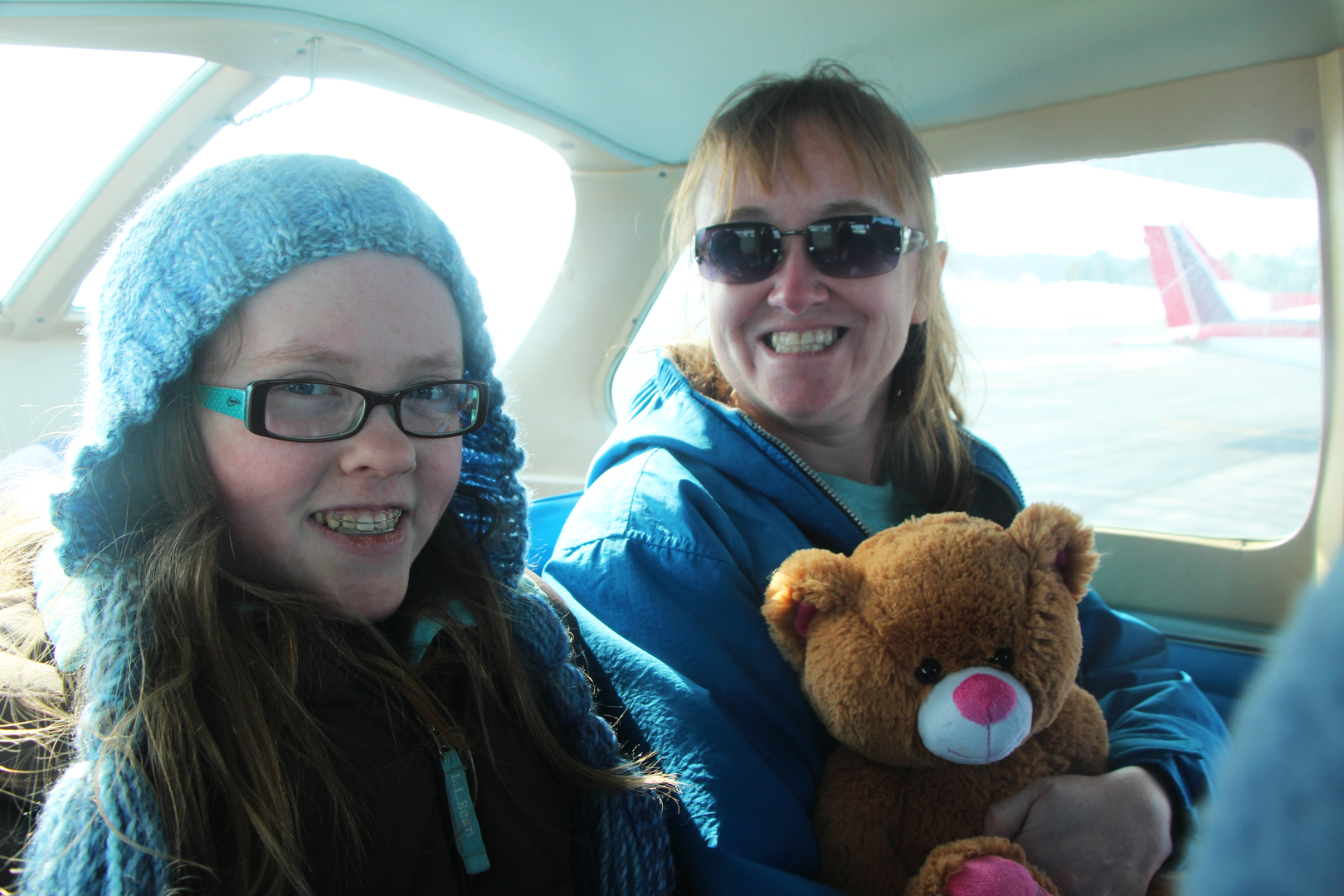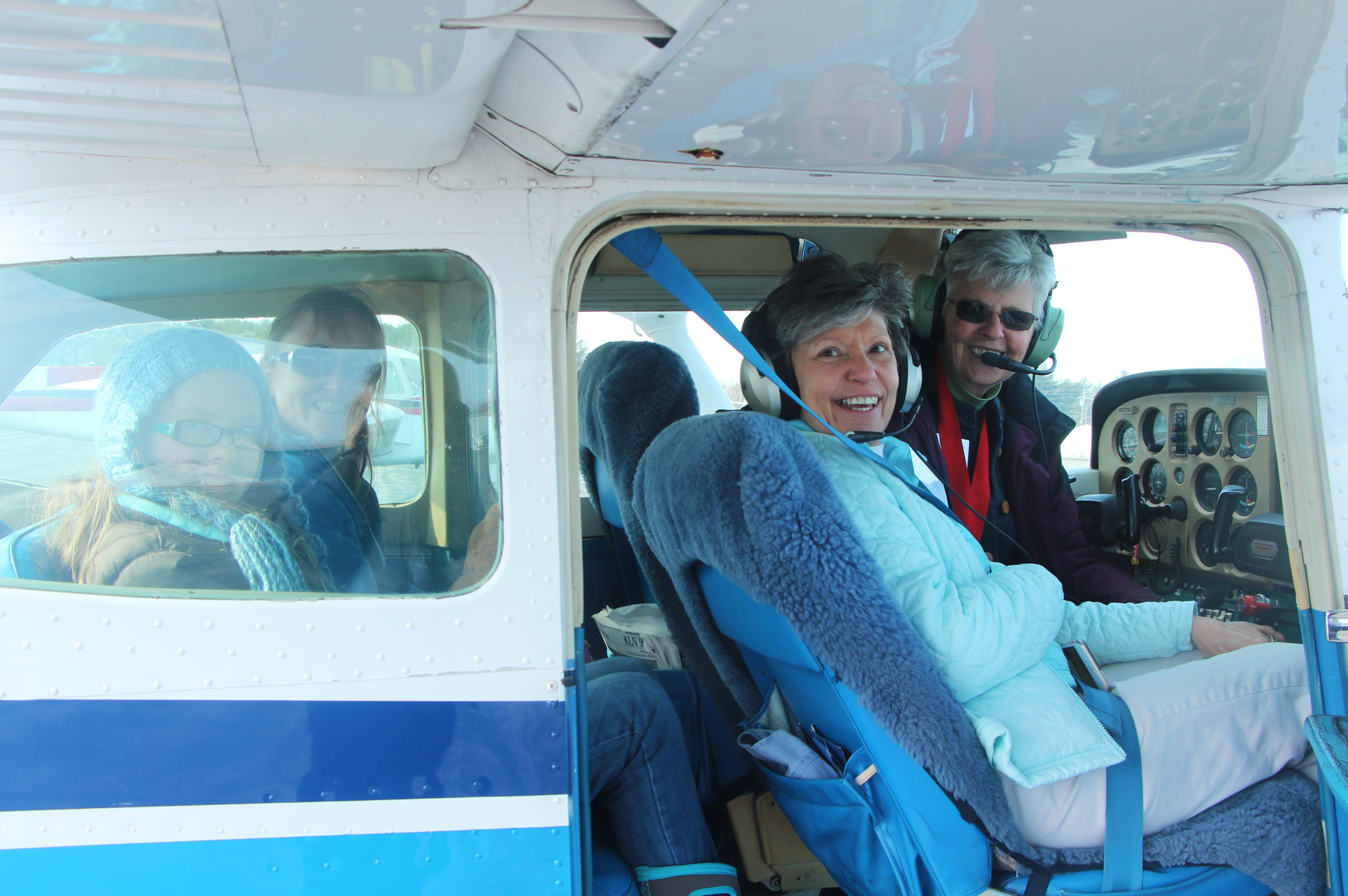 Air Race Classic 2018
The Katahdin Wings Chapter welcomed ARC Racers to the Lakes & Mountains region of Maine as the racers ended in Fryeburg.
Fryeburg is among America's earliest frontier towns and nestled in the foothills of the White Mountains. Today, it is a popular resort area attracting many tourists enjoying the great outdoors through all four seasons. It is a prosperous agricultural area of Maine and home to New England's second largest fair, the Fryeburg Fair.
Spring 2017 New England Section Meeting
March 31-April 1, 2017
Hosted by the Katahdin Wings Chapter at the Red Jacket Resort in North Conway NH. An April Fools' Day snowstorm did not deter the adventurous New England Section 99s from gathering for the Spring Section Meeting.  Members gathered on Friday evening for social hour and dinner followed by an FAA Safety Seminar presented by Linda Cioffi. Linda shared her preparations and adventures flying to Cuba in 2015. She is the first woman pilot to fly and land her own plane in Cuba since the embargo. Saturday's business meeting featured reviews of the chapters activities since fall, reports from the various committees and announcements of upcoming events and activities. It was a successful meeting and wonderful reunion of the New England 99s.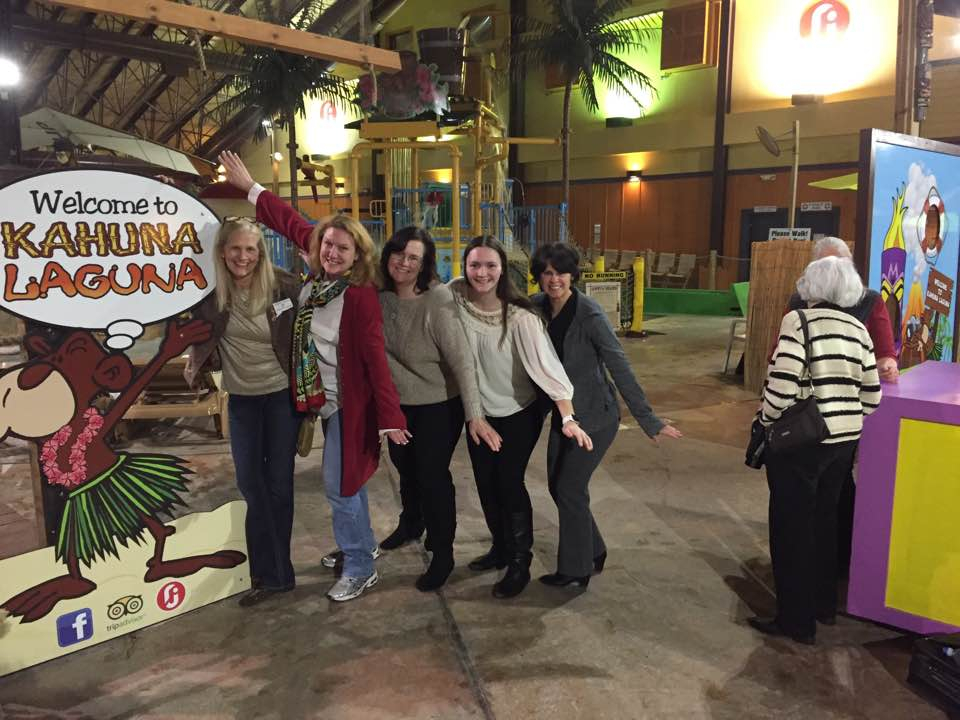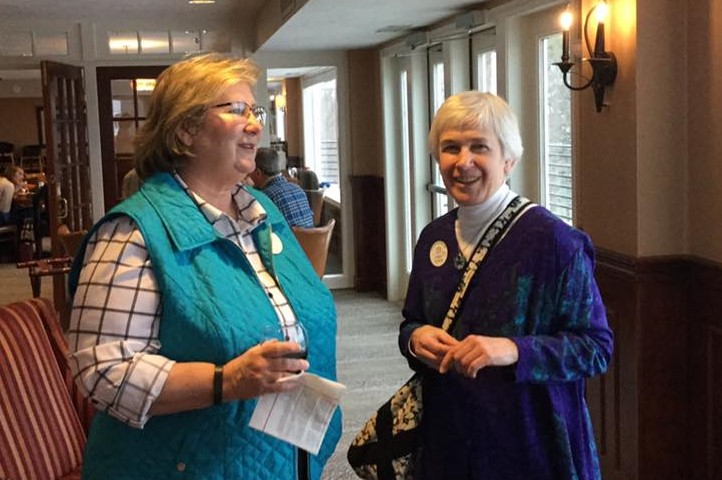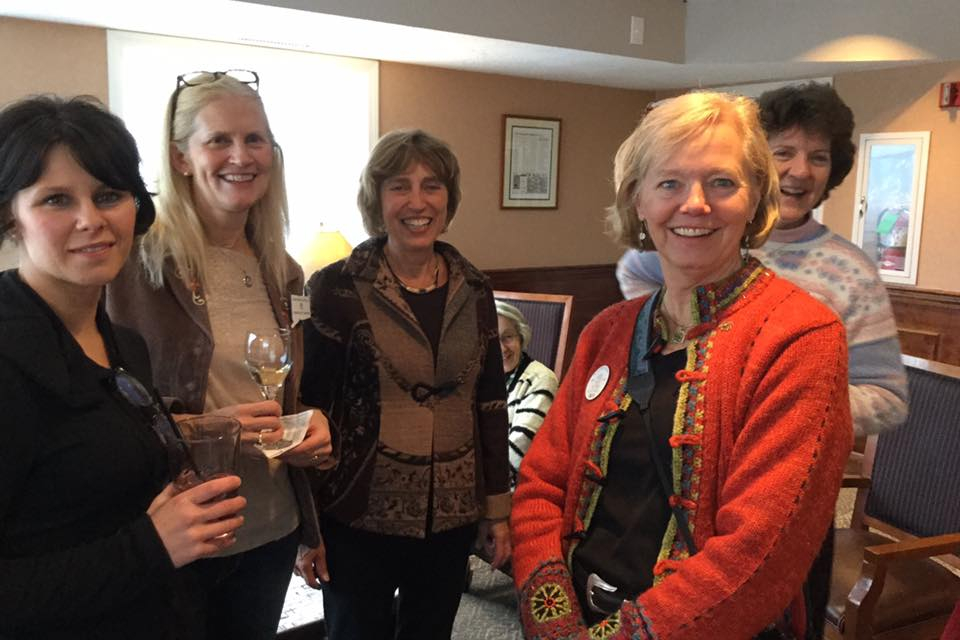 99s International Conference
Ottawa, Ontario, Canada
July 5 – 10, 2016
Eleven members of the New England Section attended the recent 99s International Conference. Margot Cheel, Jann Clark, Becky Cormier, Sue Lin, Candie Oldham, Georgia Pappas, Trish Suave, and Pat Theberge attended from Eastern New England Chapter. Glenna Blackwell and Peggy Loeffler from the Connecticut Chapter and Lori Plourd from Katahdin Wings completed our Section representation.
The schedule was full of tours, meetings, receptions, and dinners. Section members mostly went our separate ways and had different experiences on the various tours, where we interacted with other 99s from all over the world in informal settings, but got together for the banquets and the business meeting.
— From Jann Clark, Eastern New England Chapter Newsletter editor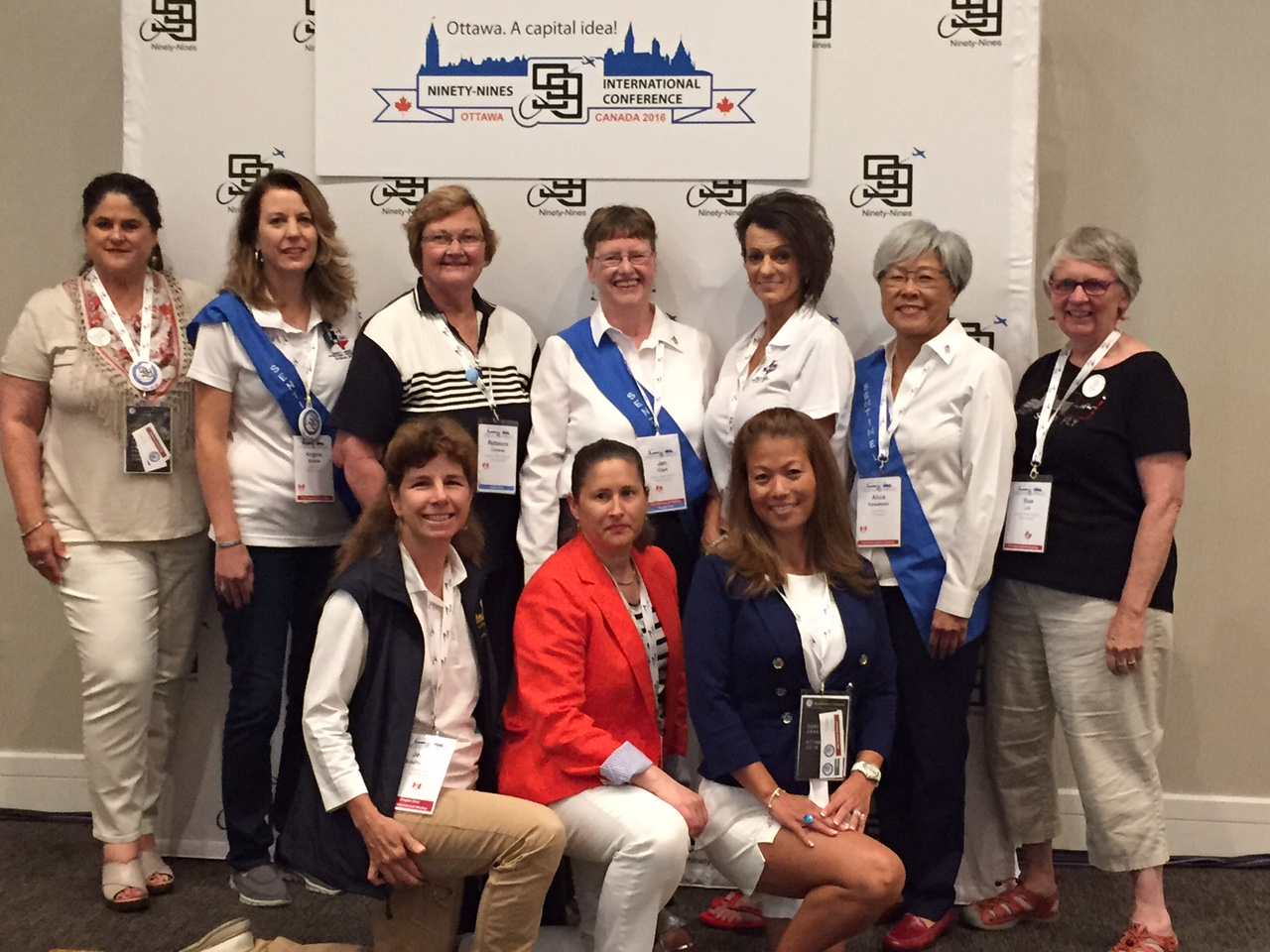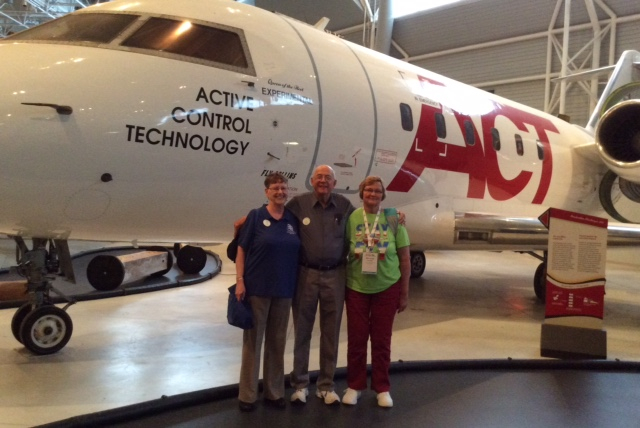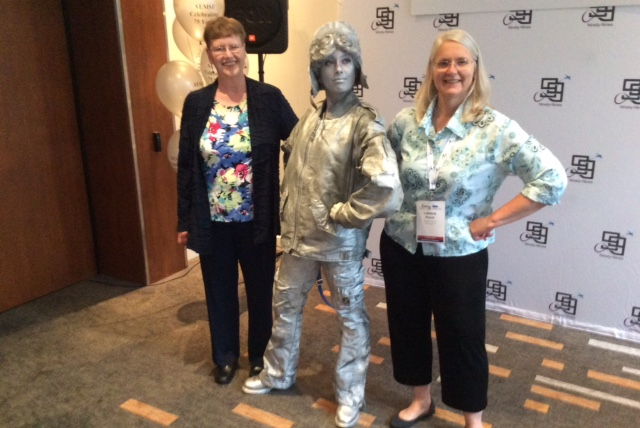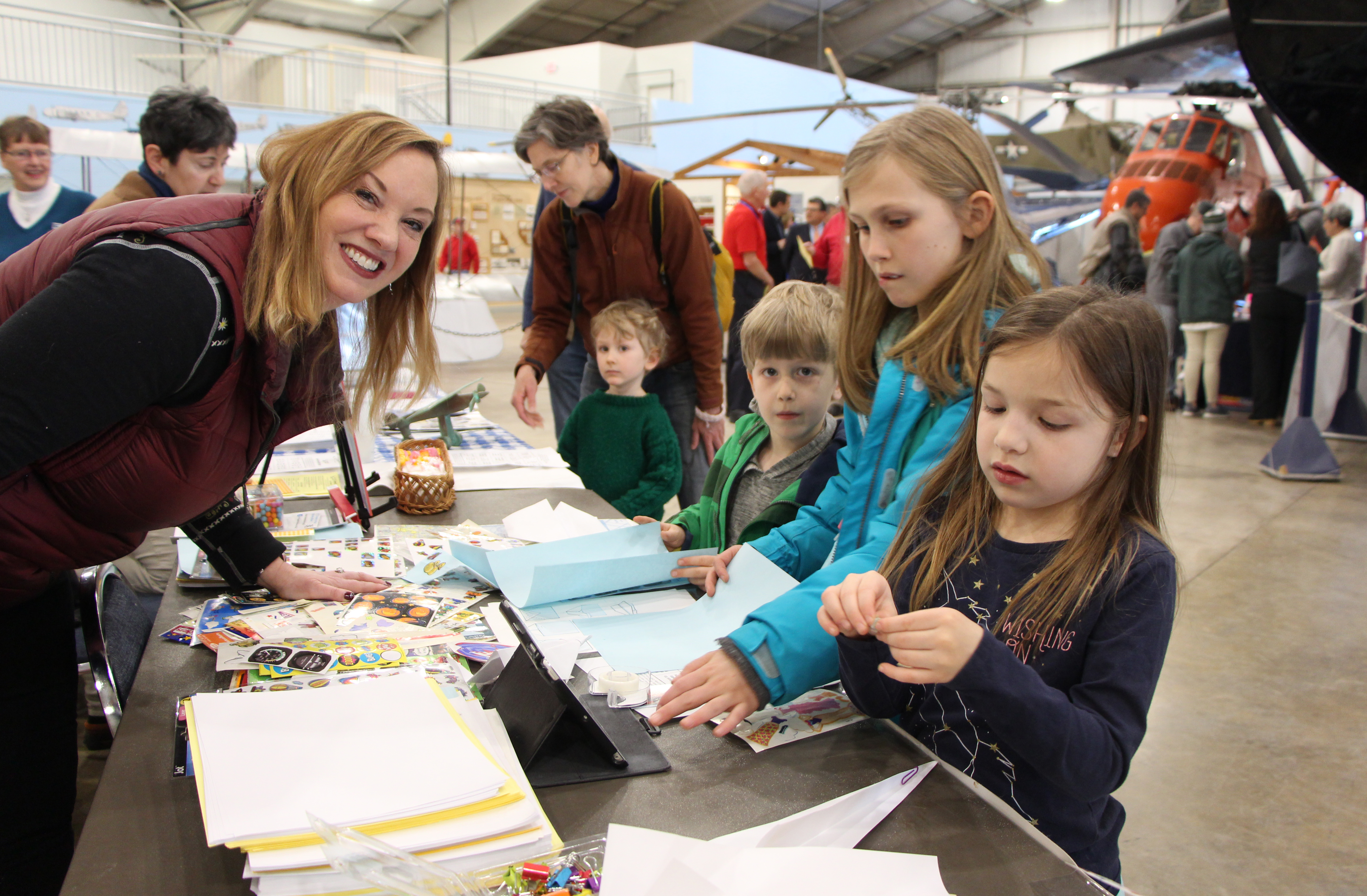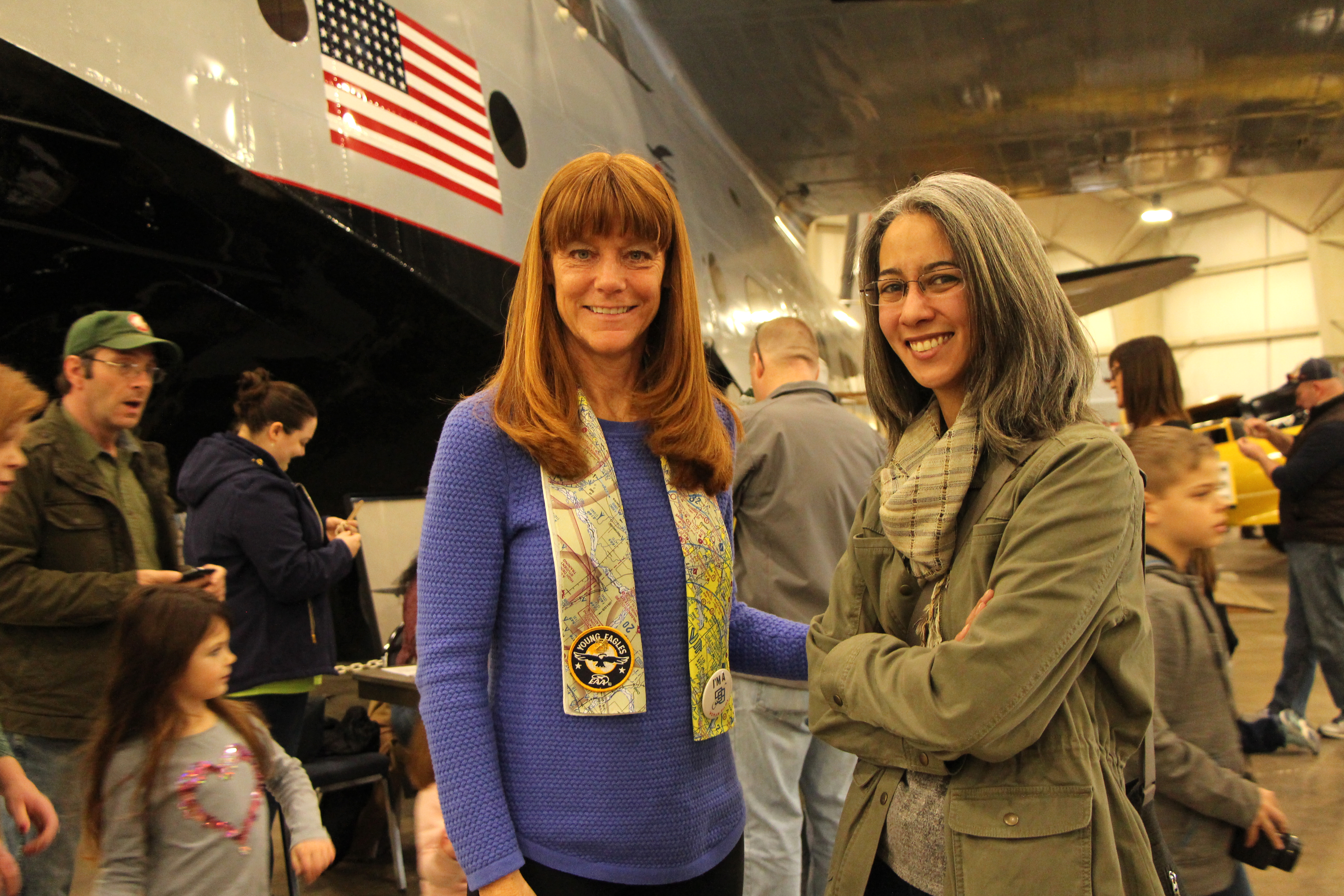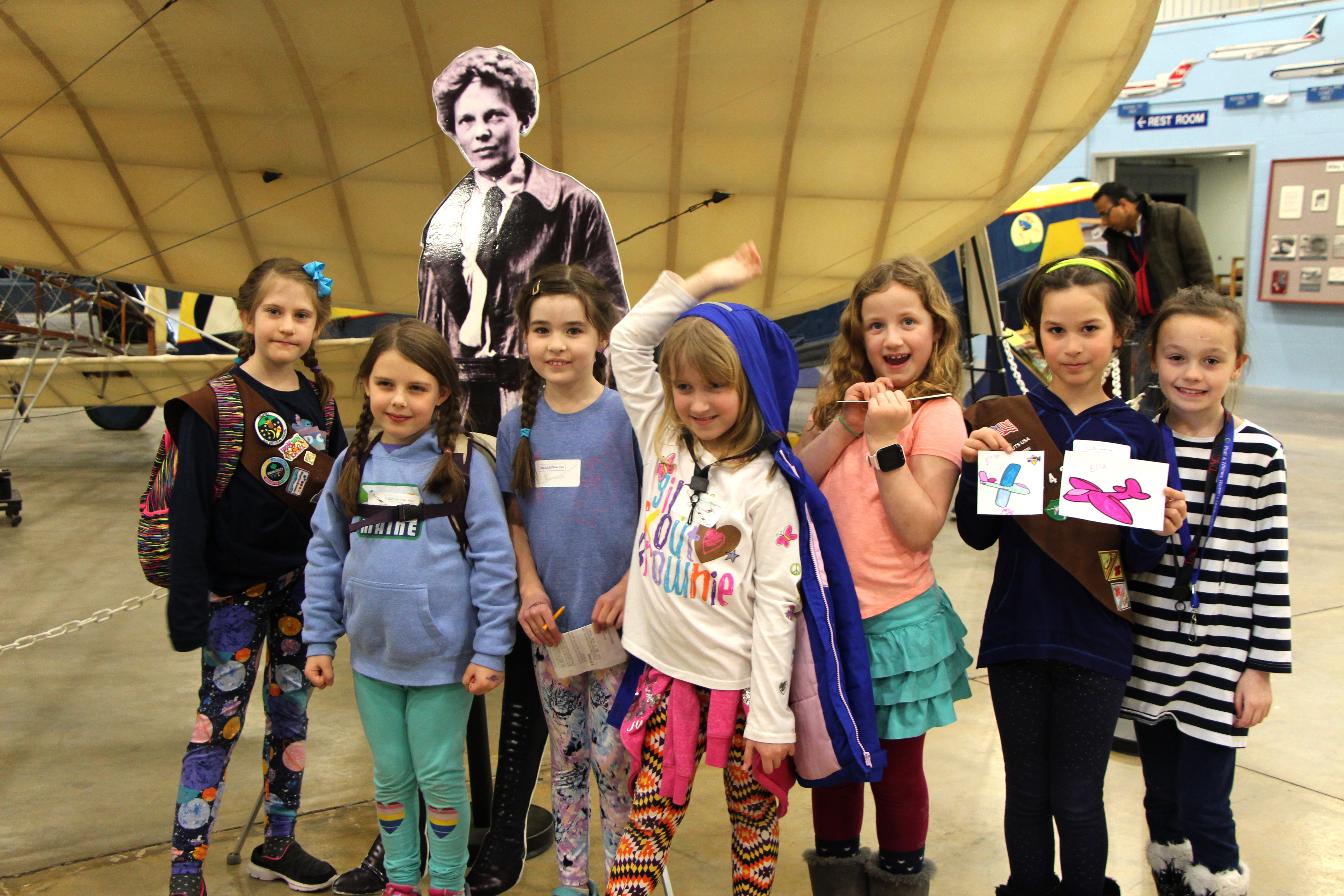 Celebration of Women in Aerospace
"Women Take Flight"
March 8, 2019 at the New England Air Museum
Windsor Locks, CT
The New England Section 99's participated in a Celebration of Women in Aerospace "Women Take Flight" at the New England Air Museum on March 8th. Member volunteers engaged the visitors with a paper airplane making activity as well as sharing information about the Ninety-Nines organization and our women pilot pioneers. The Amelia Earhart full size cutout was popular for photo shoots.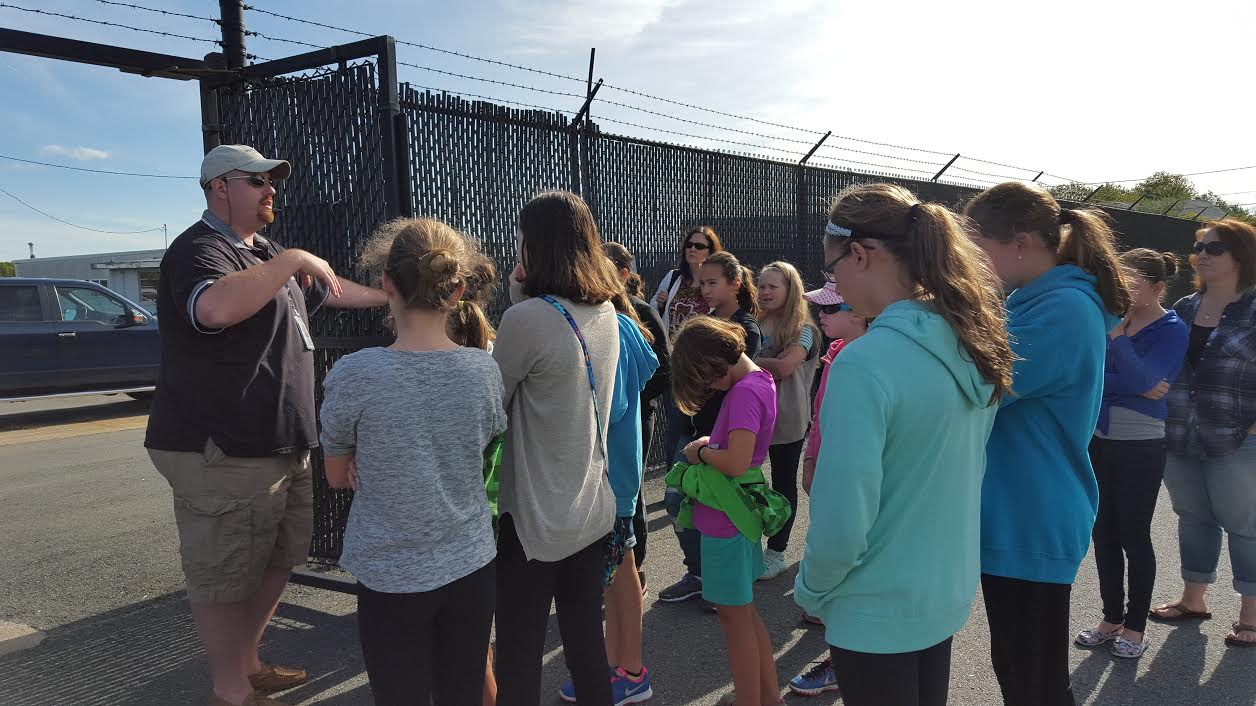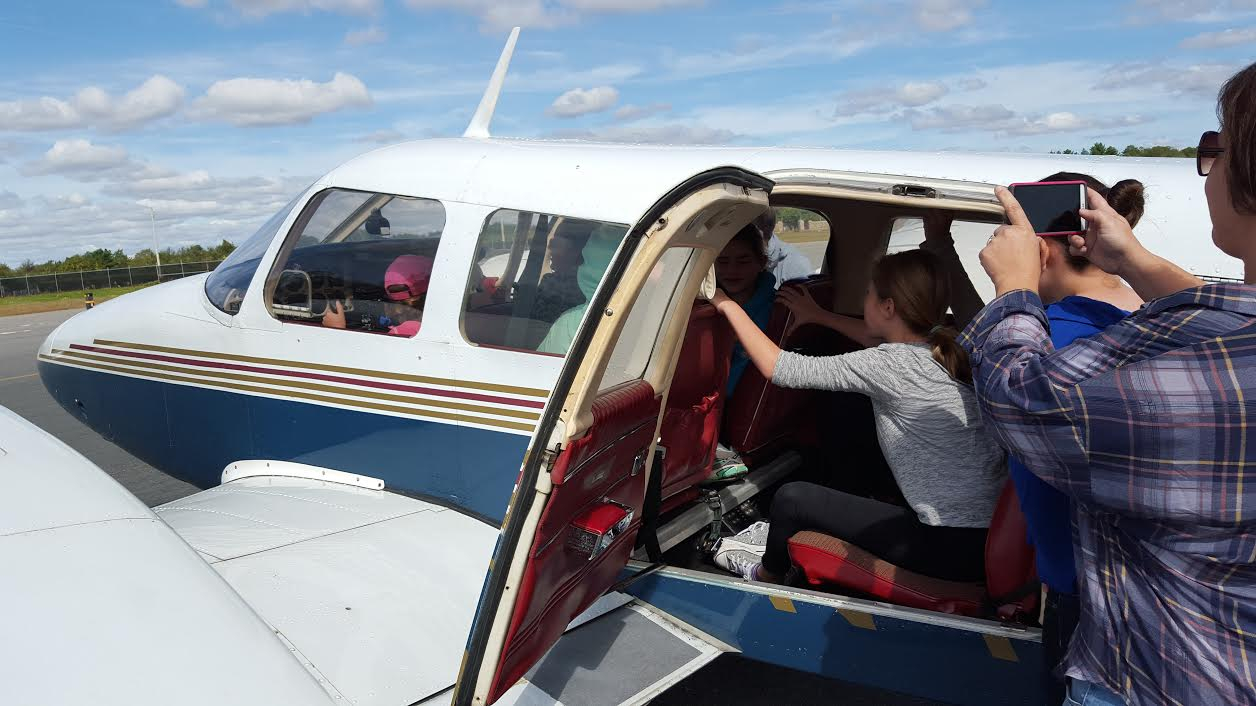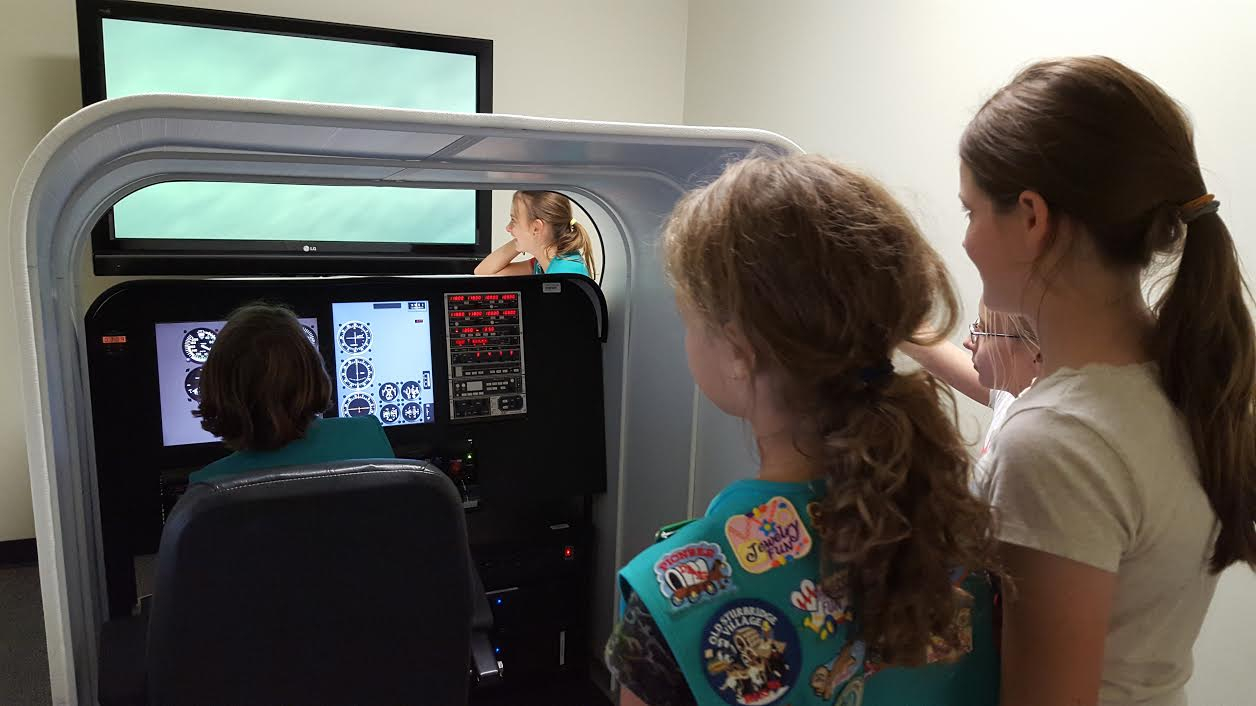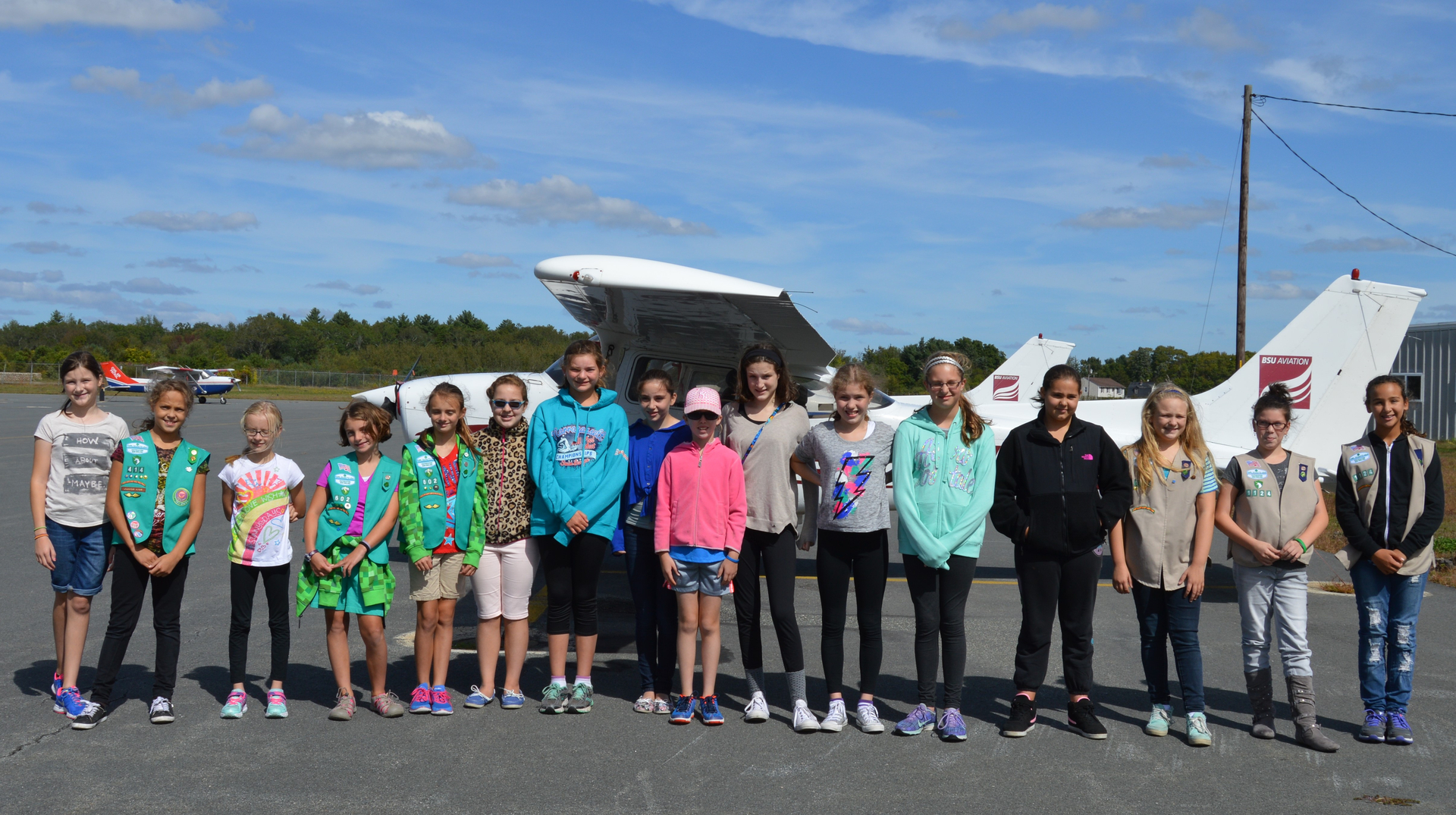 Girl Scout Aviation Adventure
Bridgewater Flight Training Center
Saturday, Sept. 26, 2015 • New Bedford Airport
"Girl Scouts from Southeastern Massachusetts and Rhode Island visited the Bridgewater Flight Training Center (located at the New Bedford Airport) to be introduced the world of aviation courtesy of the ENE 99s Chapter and BSU. The morning started with a discussion about women aviators and how the 99s began and what we do now. September 26th was breezy but beautiful as the girls were led to the tower (walking across a runway even!) by Assistant Airport Manager, Matt Elia. The girls were introduced to the tower's purpose, its operation, and the equipment our controllers use to keep pilots safe. After a quick stop at the new aviation-themed playground, the girls were taken back to learn about the training aircraft that Bridgewater uses. They were taught the different parts of both the Seneca and the Skyhawk so they could see the similarities and differences between multi- and single-engine airplanes. The rest of the afternoon was spent splitting their time between learning how to read an aeronautical chart, creating paper airplanes, and learning the basics of flight in the simulator. To top off the experience, every girl was able to take home a folder of fun worksheets all about aviation, even a coloring page of Amelia Earhart herself!"
– by Christi Ellis, ENE Chapter Chair and coordinator of Girl Scout Aviation Adventure
Concord Airport Aviation Day
Concord Airport in collaboration with the NHDOT/Bureau of Aeronautics invited the public to enjoy a very hands-on experience at KCON on November 7, 2015. Besides many other aviation and STEM-related organizations, The 99s were on hand to share their aviation enthusiasm. Katahdin Wings Chapter members Lori Plourd and Shadow Gorrill joined up with Jann Clark and her 49.5 Warren to staff the 99s info booth. The 99s booth actually spread on to another table which featured KW member Amanda Goldman's very concise and interesting info boards that give a complete rundown of General Aviation information.
Other exhibitors included the Civil Air Patrol, a remote controlled aircraft club, Aviation Museum of NH, FIRST Robotics, Plymouth State University Portable Planetarium, Garmin, BendixKing, and Home Depot offering their very popular pre-cut wooden helicopter kits, which the kids flocked to immediately to build their own helicopters. PlaneSense brought their Pilatus aircraft and was open for tours and Cirrus was there with a static display SR22 along with ENE chapter's very own Sarah Talucci, now a Cirrus sales rep. N.H. State Police had their search and rescue helicopter open for inspection as well as the state crime lab van. The airport's large snow removal equipment on display was also another very popular attraction for the kids. And of course, a very popular aspect of the day was EAA's Young Eagle flights. The 99s booth saw a lot of interest, where many teachers, aviation club leaders, and civic organizations learned how much The 99s has to offer in the way of aviation education, history and scholarship opportunities.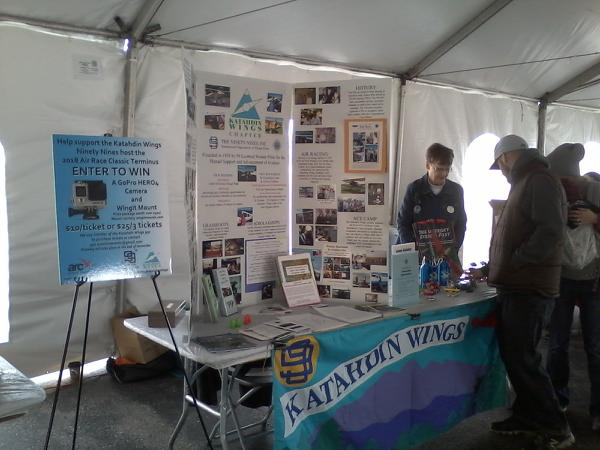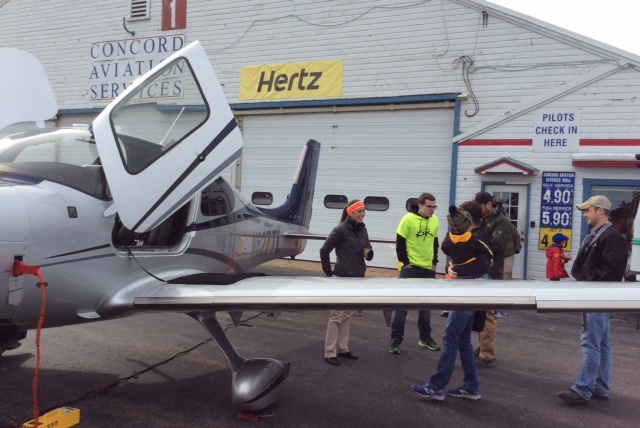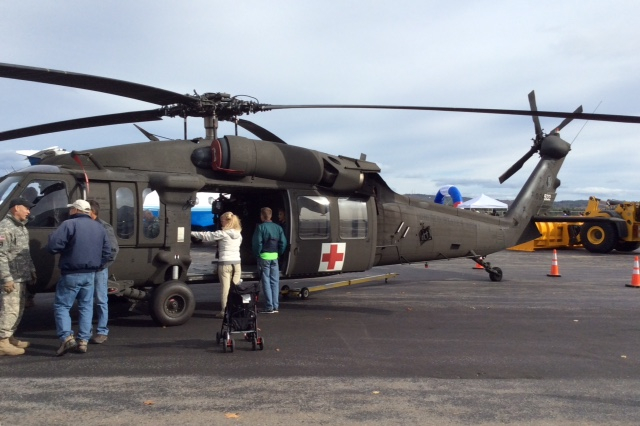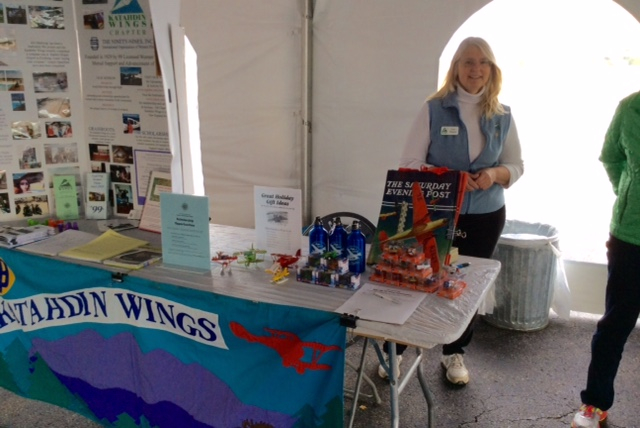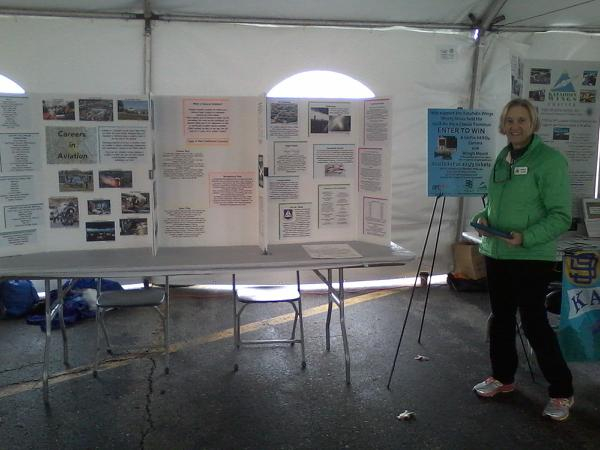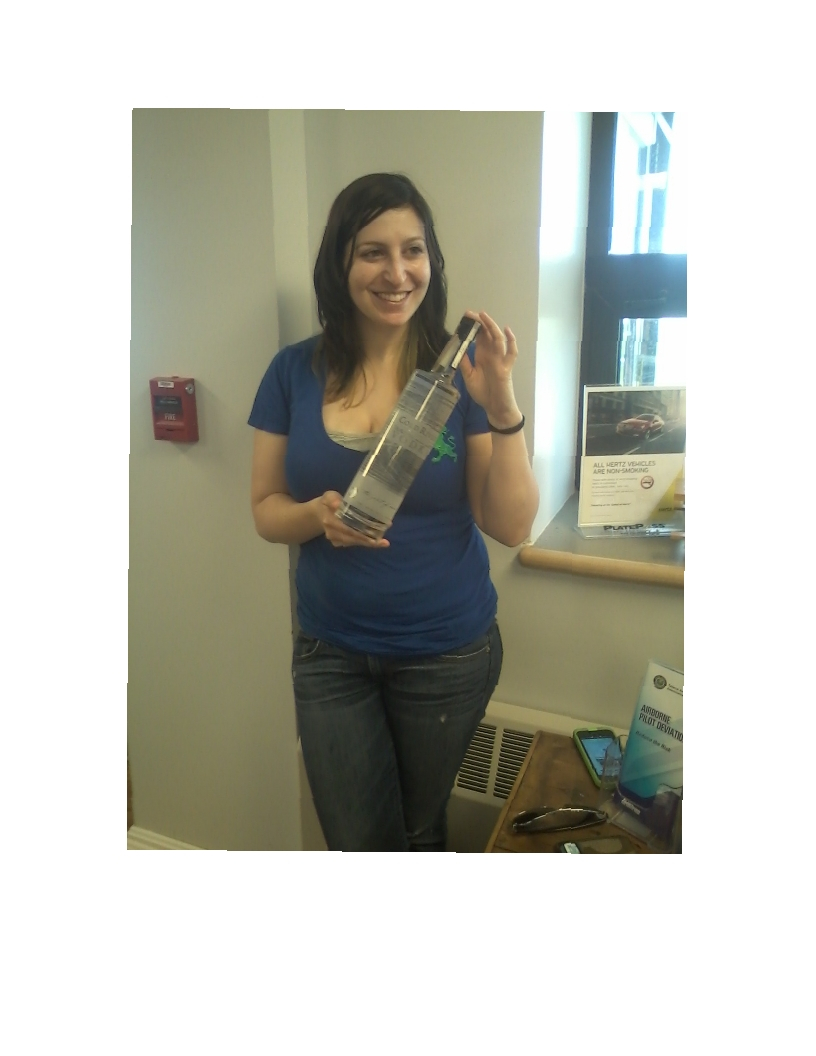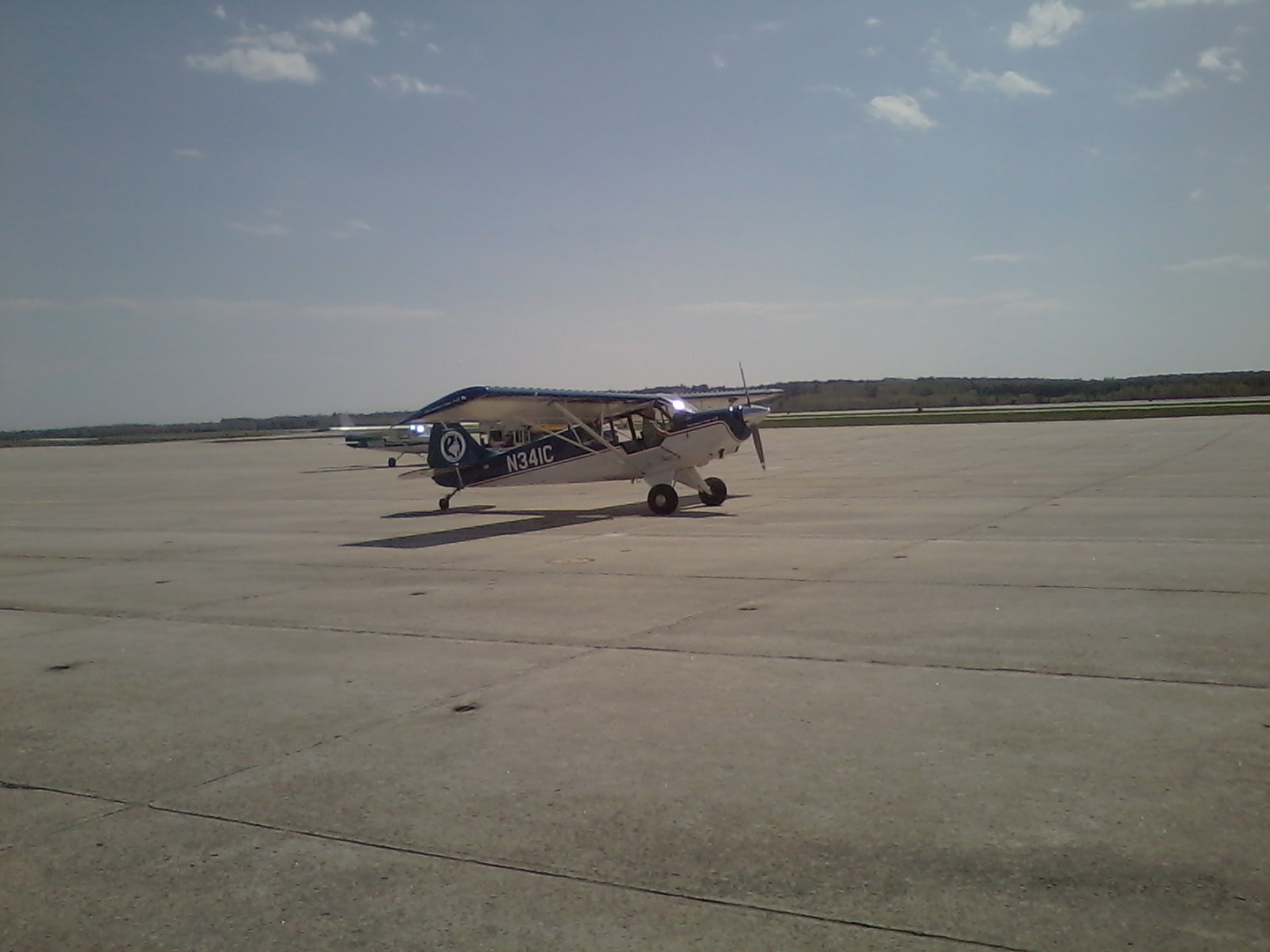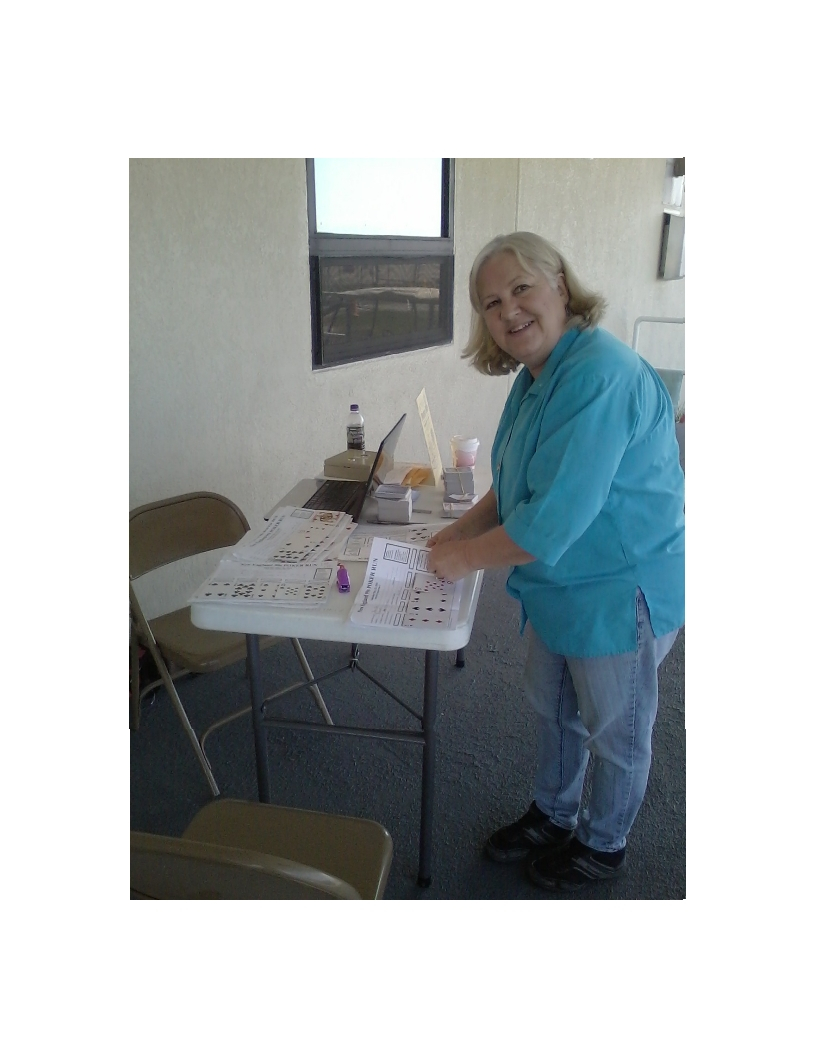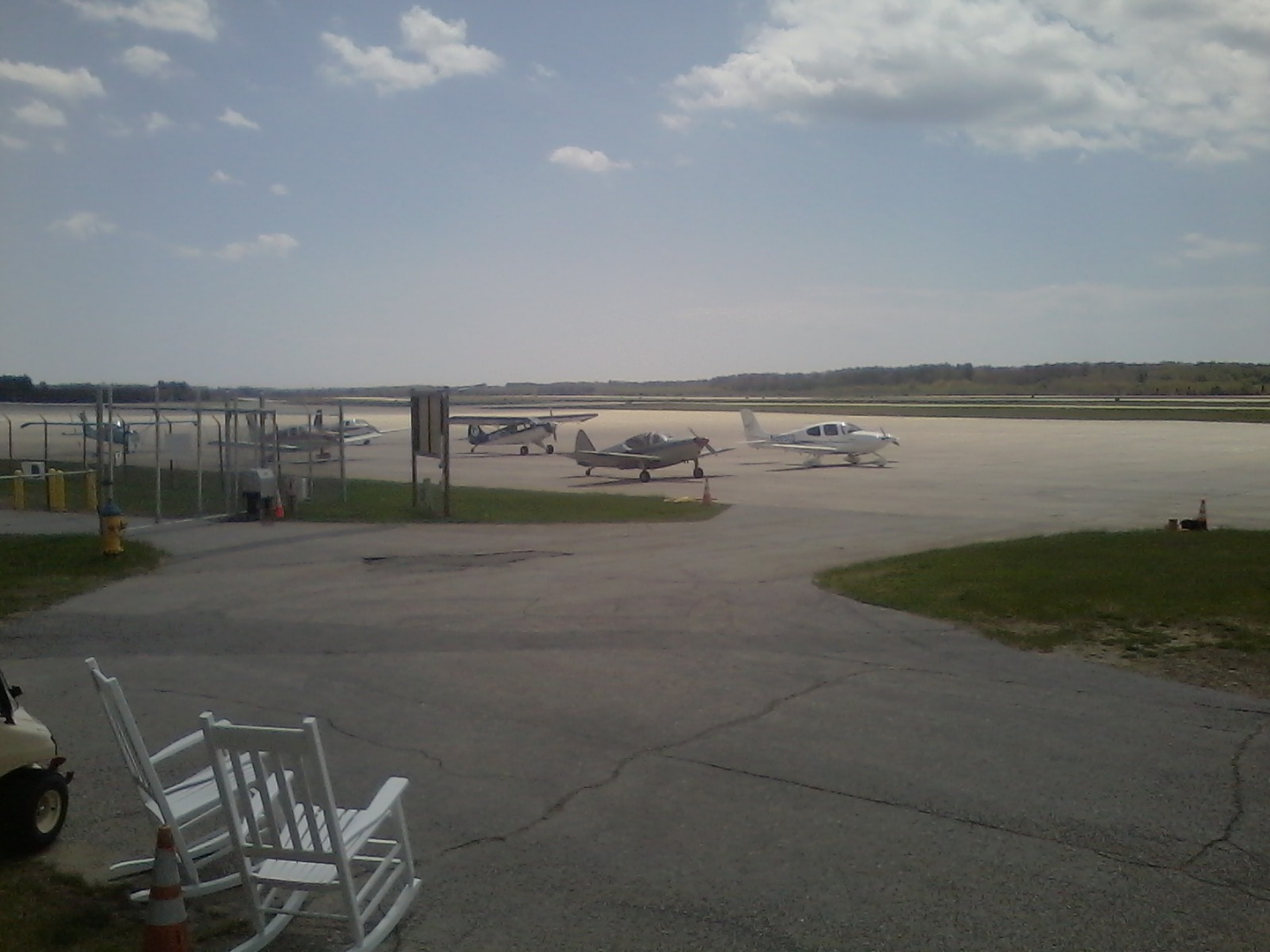 Women Interested in Aviation Airport Open House & Fly In
On Saturday, May 14, 2016 Auburn-Lewiston Airport and the Katahdin Wings Chapter of The 99s welcomed the community to an airport open house and fly in. The theme of the day was "Women Interested in Aviation" with special focus on introducing girls and women to aviation and STEM related careers. Many aviation and STEM exhibitors joined in for the day to make for a fun, well-rounded and interesting experience for all. The chapter donated "99s Aviation" patches for all those that took part in a Log Book Scavenger Hunt and Auburn-Lewiston Airport had tote bags and goodies for all that attended.
The Katahdin Wings Chapter featured info tables about The 99s and Women in Aviation History; Maine Air Museum loaned their "Amelia in Maine" exhibit; another exhibit featured information about general aviation and an AOPA area representative was on hand to explain all the wonderful aspects of general aviation. More women in aviation history, past and present, were on hand to share information about Air Racing and the WASP program.
Other minorities were represented with an info board featuring Bessie Coleman, and the Tuskegee Airmen and the Commemorative Air Force's event coming up in August at Wiscasset Airport was also promoted. Youth aviation programs were well represented with a booth for the Civil Air Patrol and the ACE Academy. University of Maine Augusta and Bridgewater State University Aviation program representatives were on hand as well. An airport engineer and a TV meterologist rounded out the STEM related careers. A hands-on UAS demonstration kept everyone enthralled and "aircraft and rocket engineering" made sure no one left empty handed. Challenger Space Center from Bangor featured an info booth about their exciting roll-playing programs. Meaningful aviation mission organizations LightHawk and Patient Air Lift programs shared their information and a Portland Jetport air traffic controller put a face to the voice local pilots hear when flying into Portland. Also for the other pilots flying in there was an info table from the L-A Flying Club featuring some unique membership options and ways to complete flight training.
Volunteer pilots from The 99s, EAA and PALs rounded out the day by generously "sharing their wings" and giving free intro flights. Cirrus Aircraft lent their latest model for static display, as well as LifeFlight of Maine, making the 20-minute flight from Bangor to show off their new KingAir outfitted for emergency medical transport. Civil Air Patrol also had their newest model Cessna 172 featuring a glass panel. Nine aircraft flew in to enjoy the day and partake in the delicious pancake breakfast and hot dog luncheon hosted by the local Boys & Girls Club Keystone members. They used this event as a fundraiser to help the local nonprofit organization "Lots to Garden".
It was a fun, informative and exciting day for all. See coverage in the local newspaper Sun JournalHERE